Back to News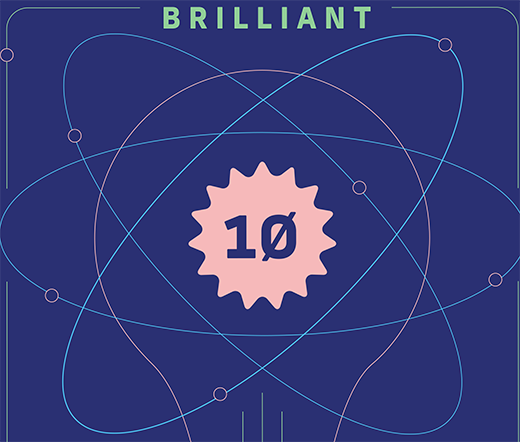 Popular Science Announces the "Brilliant 10" of 2021
"Science and technology's roles in everyday life and our day-to-day discourse have accelerated so rapidly just in the past two years, we felt like this was the perfect time to revive this franchise and honor some of America's brightest innovators. These thinkers represent our best hopes for navigating unprecedented challenges in fields as practical as public health and as far-reaching as astrophysics." 

Corinne Iozzio, Editor in Chief
Popular Science Announces the "Brilliant 10" of 2021
The 10 early-career scientists and engineers changing the world around and ahead of us
September 20, 2021 (New York, NY)—​Popular Science is proud to announce the most enterprising up-and-coming minds in science and technology today. The Brilliant 10 is an annual roster of scientists and engineers developing innovative approaches to problems across a range of disciplines.
The Brilliant 10 is one of Popular Science's signature awards programs and is back after a five-year hiatus. This year's class features a meteorologist pointing out a hole in our climate models, a biomedical engineer developing microscopy methods that can detect cancer cells within minutes, a neuroscientist helping to untangle generational trauma, a chemist removing "forever chemicals" from our drinking water, and so much more. All of the winners work at colleges and universities around the country as Associate or Assistant Professors. 
"Science and technology's roles in everyday life and our day-to-day discourse have accelerated so rapidly just in the past two years, we felt like this was the perfect time to revive this franchise and honor some of America's brightest innovators," says Editor-in-Chief, Corinne Iozzio. "These thinkers represent our best hopes for navigating unprecedented challenges in fields as practical as public health and as far-reaching as astrophysics." 
MEET THE BRILLIANT 10
Stacy Branham, University of California Irvine  

Michael

Giacomelli, University of Rochester 

Josiah Hester, Northwestern University

Bianca Jones Marlin, Columbia University

Frank Leibfarth, University of North Carolina at Chapel Hill 

Fangqiong Ling, Washington University in Saint Louis 

Brenda

Rubenstein, Brown University

Matthew Stamm, Drexel University

Michael

Troxel, Duke University

Allison Wing, Florida State University
The editorial team assesses hundreds of candidates from institutions of all sizes across the United States before settling on the finalists. 
"After carefully considering hundreds of potential candidates, we believe these winners represent 10 of the most exciting emerging minds in science and technology. These are the people who are changing the way we think about and tackle key issues, all while educating the next generation of innovators. With such incredible work already underway at such early points in their careers, we at PopSci can't wait to see what the Brilliant 10 will do next," adds Executive Editor, Rachel Feltman. 
You can read more about the Brilliant 10 on popsci.com and in the Fall issue of the magazine. 
###
ABOUT POPULAR SCIENCE
Established in 1872, ​Popular Science is one of America's oldest and most trusted magazine brands. ​Popular Science​ has a legacy of bringing readers groundbreaking innovations and discoveries, demystifying the world, and examining everything from the marvels of deep space to the secret lives of everyday staples. Popular Science makes science and tech engaging, approachable, and inclusive to keep readers, listeners and viewers plugged in to and excited about the world around them. Popular Science is part of Recurrent Ventures., a privately held media company that includes brands like The Drive, Futurism, and Outdoor Life as well as the licensing group responsible for Popular Science's line of Telescopes, STEM Toys, children's books and more.