Back to News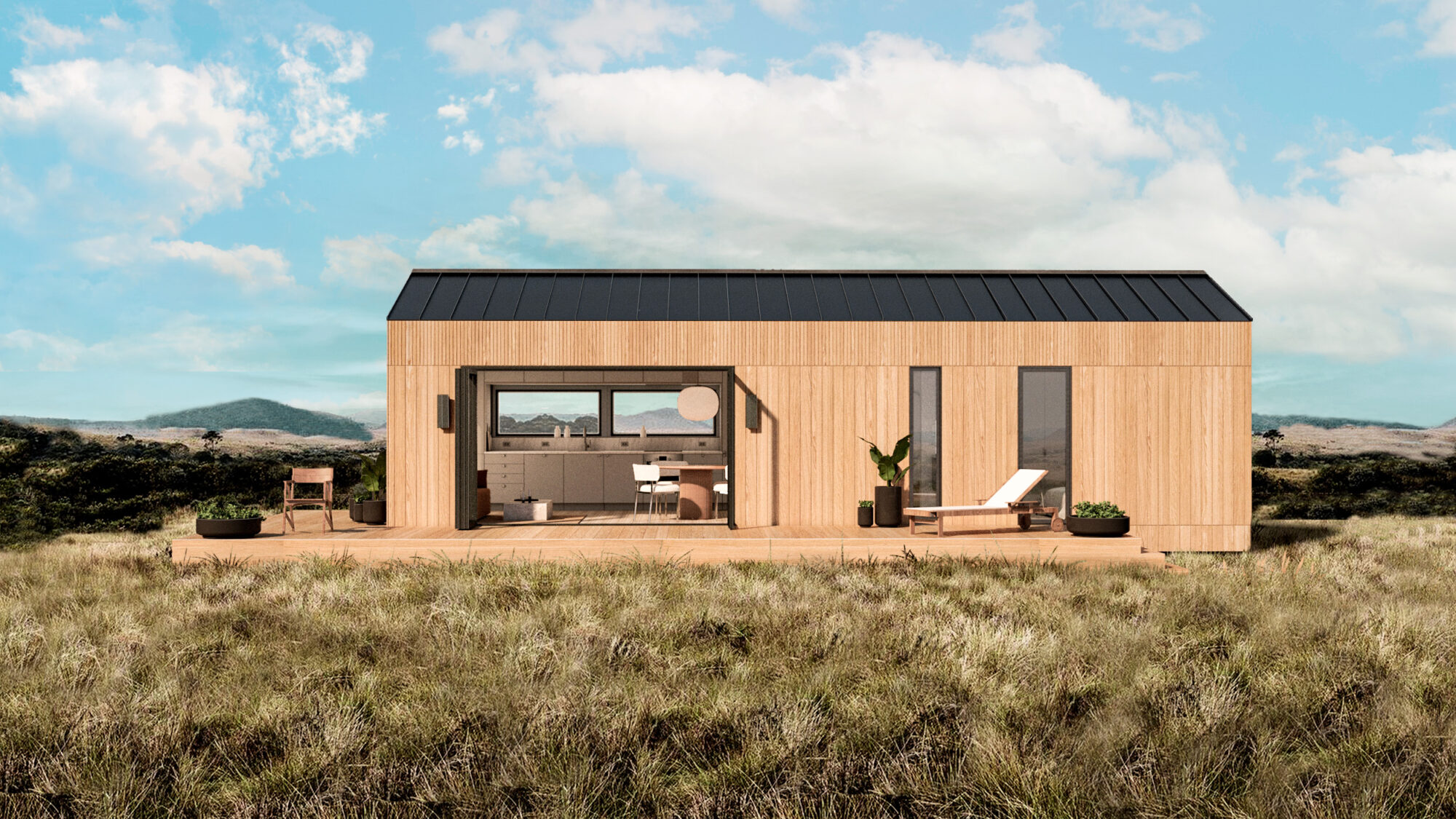 Dwell Introduces New Modern Backyard Home To U.S. Market
Dwell Introduces New Modern Backyard Home To U.S. Market
The 540-Square Foot Prefab Homes are Thoughtfully Designed With Premium Materials to Add More Living Space For Homeowners 
SAN FRANCISCO, Calif. – Sept. 20, 2022 – Today, Dwell – the authority on great home design – is announcing the launch of their first-ever backyard home (also known as an accessory dwelling unit or ADU). The Dwell House, produced in partnership with leading ADU provider Abodu and award-winning Danish design studio Norm Architects, is a 540-square-foot one-bedroom home with a full kitchen and bath, designed with a California-meets-Copenhagen feel that you can't find anywhere else. 
Designed to integrate seamlessly into people's homes and properties, the floor plan works well as a guesthouse, rental apartment, home office, pool house, fitness studio, and more, so homeowners can easily add extra living space to fully utilize their property. The Dwell House is transforming the housing market by allowing homeowners to add more room for whatever their needs are without a lengthy renovation or hunting for a bigger house. According to a recent Dwell survey of U.S. subscribers, 71% of respondents are interested in adding an ADU to their backyard. 81% of that subset would use the house as a guest property for visitors or multigenerational space for family members, while 74% would use it as a flex space for a home gym, office, studio, etc. 
"The Dwell House is the future of home in many communities. Backyard houses provide a solution to meet contemporary needs with the property we already have, whether that's adding space for guests, a growing family, an aging parent, a home office or just a change in lifestyle," said Zach Klein, CEO of Dwell. "They are also one tool that can address the housing shortage by adding much-needed units to the market. Dwell has championed the ideas and policies that have made backyard houses possible—now we're working with Abodu to make them attainable with extraordinary speed and customer service."
"The Dwell House was born from a collective desire between Dwell and Abodu to bring world-class architecture to people's backyards," says Eric McInerney, Co-Founder and COO of Abodu. "It is a completely new take on the modern home, from its versatility and elevated design to its construction and the way it's delivered to your property. Abodu is with the customer every step of the way, from purchase and permitting, to delivery." 
After purchase, each house is constructed off-site, shipped to the owner's property and craned into place. It arrives turnkey with a full suite of appliances in as little as six months in a process managed entirely by Abodu. On-site construction time is only about two weeks of site preparation in an owner's backyard. Pricing starts all-in at $389,000 (excluding local taxes, fees, and custom site-specific work in excess of Abodu's standard scope of delivery) and is locked in before build begins. Houses will initially be available for purchase in Los Angeles, the Bay Area and Seattle. 
The Dwell House comes with the following features: a complete set of Bosch appliances, including an oven and kitchen range, a refrigerator, a dishwasher, and an optional washer and dryer; custom-milled siding from Real Cedar that is durable, weather-resistant and sustainably harvested; windows from Marvin's Signature–Ultimate line that have clean-lined frames and provide high energy efficiency in any climate; and a 12-foot folding glass wall custom made by NanaWall to seamlessly connect indoor and outdoor spaces. Additional features include ample built-in storage, 9'-10' ceilings and more. 
In-person tours of the Dwell House are available by appointment at Abodu's brand new Los Angeles showroom located at the heart of the DTLA arts district. Visit www.dwell.com/house to see if your property qualifies or to book a showroom tour.
###
About Dwell
Founded in 2000 by Lara Deam, Dwell's mission is to improve people's lives with great design. Online and in our beloved print magazine, we feature new ideas about what a home can and should be and offer expert advice for making your own space a better place to live. We are a marketplace for the best-designed products out there and a platform for our audience to share and discover inspiring spaces. The Dwell House is one piece of our larger goal to help people make better homes with accessible design. 
Dwell's commitment to smarter ways of building homes began in the first issues of Dwell Magazine with stories about a new generation of possibilities for prefab construction. From there, they launched a groundbreaking competition to design a home built with prefab components and have been the authority on all things prebuilt ever since. For more information on Dwell, visit www.dwell.com. 
About Abodu
Abodu is a full-service Bay Area-based accessory dwelling unit (ADU) company that oversees every detail of the customer experience, from purchase to delivery. Abodu is both a product and service, specializing in maximizing the efficiency and quality of backyard homes by constructing them offsite and delivering them as a complete unit in as little as six months. Founded in July 2018 by John Geary and Eric Mclnerney, Abodu offers three unique products and is the fastest end-to-end ADU provider, helping buyers navigate the regulatory hurdles and construction challenges that come with building a backyard home. Abodu's prefabricated ADUs are currently available in Northern California, Southern California and the Pacific Northwest. For more information on Abodu, visit www.abodu.com. 
About Norm Architects
Much like human well-being, the essence of Norm Architects' work is found in balance—between richness and restraint, between order and complexity. Each project—whether architecture, interiors, design, or creative direction—is imbued with the same intrinsic quality: a simplicity that carries bigger ideas. Guided by the body and mind rather than by trends or technology, their projects explore ideas that not only look good but also feel good. Architecture becomes thoughtful, minimalism acquires softness, and visual matter assumes haptic qualities. Their work is sharp and exudes tactility, and their approach focuses on quality, details, and durability.
Situated in the heart of Copenhagen, Denmark, they respect their context and build on the traditions of Scandinavian design, timeless aesthetics, and natural materials while upholding modernist principles of restraint and refinement. Through exploring what it is that heightens the human senses, regardless of personal preference, their projects strip spaces, objects, ideas, and images back to their simplest forms. Their expertise lies in finding balance—when there's nothing more to either add or take away.